Replikote™ PVD coating processes have been engineered for deposition onto highly polished molds, tools and components without degrading the existing surface condition.  Replikote™ employs technologies that dramatically reduce macro-particle inclusions, thereby avoiding any significant increase in surface roughness or loss of luster.  The desired surface finish is locked in under an extremely hard, dense film with an improved coefficient of friction and a lower surface energy than uncoated steel.
With Replikote™, there are improvements in part release, material flow, and abrasion resistance that will translate into more effective part production.  Furthermore, our Replikote™ coatings may eliminate much of the daily and periodic cleanings required for some production:  this increased up-time means more efficient production and a lower cost-per-part in manufacturing.
Additionally, our Replikote™ avoids some of the pitfalls of other plating processes.  The homogeneity of the coating deposited through our Replikote™ process provides superior density when compared to current chrome and nickel plating processes.  In addition, Replikote™ eliminates the micro-cracking and post-processing that are inherent to electrolytic and electro-less plating processes.  Furthermore, our coatings can be de-coated from most substrates without any adverse effects to the under-lying material and surface condition.
Replikote™ PVD Coating Benefits
Closely replicates existing surface finish
Very high micro-hardness
Great adhesion characteristics
Controlled thickness
Additional corrosion protection
Low friction coefficient
Low surface energy
No post-coating polish is required
More chemically inert than chrome
Coatings can be safely de-coated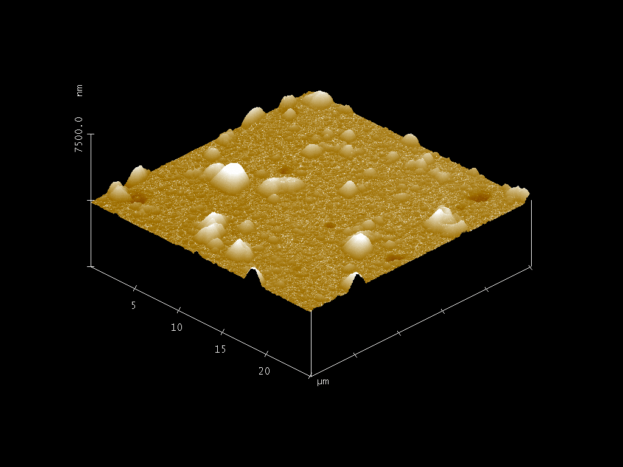 This 25 x 25 µm AFM image shows the types of macro particles and inclusions that are created through a typical PVD TiN process. The imbedded particles would create a hazy finish and degrade the surface condition.
This 25 x 25 µm AFM image of our Replikote™ C TiN coating is typical: the macro particles have been "filtered" to create a coating nearly free of defects and suitable for most optical applications, including lens molds, etc.
Replikote™ PVD Coatings
| Proprietary Name | Composition | Color | Thickness (microns) | Micro-Hardness (HV) | Maximum Working Temperature | Coating Process Temperature |
| --- | --- | --- | --- | --- | --- | --- |
| Replikote™ C | TiN | Gold | 1-5 | 2300-2500 | 600˚C / 1112˚F | 375˚C / 707˚F |
| Replikote™ C3 | CrN/CrC | Silver | 1-5 | 2000-2200 | 700˚C / 1292˚F | 375˚C / 707˚F |
| Replikote™ C5 | TiCN | Bronze/Gray | 1-5 | 2800-3200 | 400˚C / 752˚F | 375˚C / 707˚F |
| Replikote™ C11 | DLC (a-C:H) | Black | 1-4 | 2000-3000 | 350˚C / 662˚F | 220˚C / 428˚F |
Data has been generated from lab samples. Characteristics may vary depending on customer's material, surface condition and part geometry.
Replikote™ C (TiN)
This is a fantastic general purpose coating for most plastic injection molding applications. Our Replikote™ C tends to be more than sufficient for 90% of our customers' molding applications. In addition to very good wear and release characteristics, the TiN layer provides good corrosion protection from HCl gases.
Replikote™ C3 (CrN/CrC)
Due to the chromium-based composition, our Replikote™ C3 is primarily used for rubber and die-cast (Al & Zn) molding applications. This coating is also very good at protecting mold surfaces from chemical attack, especially from hydrogen fluoride (HF) gases.
Replikote™ C5 (TiCN)
This TiN/TiCN multi-layer thin-film coating is typically used when additional abrasion resistance is required. The higher micro-hardness of this film gives enhanced wear characteristics. Replikote™ C5 is used on mold components that see higher load and wear.
Replikote™ C11 (DLC)
Our Replikote™ C11 is the smoothest DLC coating on the market. This coating combines very good micro-hardness characteristics with a very low coefficient of friction to give excellent wear and friction protection. This coating will improve the material flow and release of mold parts, and works especially well on moving parts, such as ejector pins.