Platinum Service™ represents the highest level in optical disc mirror reconditioning services.  We have established a complete in-house program for polishing, refurbishing and coating optical disc mold components.  Every phase of component processing occurs at our facility:  this allows us to optimize quality and delivery times for our customers.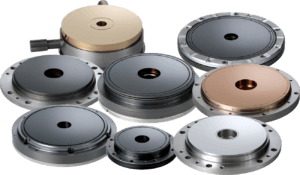 The core of our Platinum Service™ refurbishment program is our fully equipped in-house tool & die shop.  Our personnel are fully trained in the refurbishment procedures for all makes and models of optical disc plastic injection molds, both old & new:
AWM4
Axxicon
Kata
Krauss Maffei
Philips
Seikoh Giken
Sony
Toolex Alpha
Richter Precision Inc.'s Platinum Service™ program specializes in:
24 Hour "Signal" Side mirror polishing with our special 6 stage polishing process
Complete "Signal" & "Stamper" Side mirror reconditioning
DLC, TiN & TiCN optical quality thin-film coatings
24 Hour IFPI engraving service
Replacement mold components
Custom mold modifications & prototype work
We would be pleased to provide a no-cost evaluation and quotation for the repair of your optical disc mold components.  Let us show you how we can start saving your company time and money.
Our Platinum Service™ program means quality, consistency and efficiency:  all in a timely and cost-effective manner.  For more information, please contact us and request our Platinum Service™ literature.