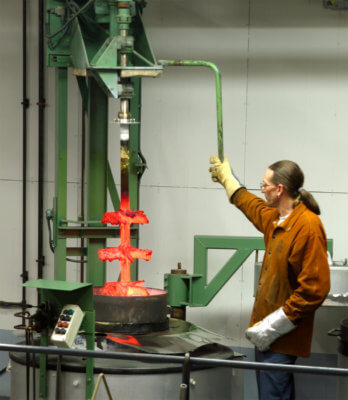 Thermoreactive Diffusion (TD or TRD) coating processes are available as part of our standard line of wear-resistant coatings.  TD coatings are most commonly used in metal-forming applications, and work well to fill application gaps where CVD coatings may not be optimal.   The full range of processes provided by Richter Precision Inc. allows us to supply the best coating solution in order to unlock the full potential of your tools.
What is TD Coating?
Thermoreactive Diffusion (TD or TRD) is a high temperature coating process for producing metal carbides (typically vanadium carbide) on the surface of a carbon-containing substrate. This is a multi-stage coating process which utilizes a pre-heat cycle, a coating segment, ultra-sonic cleaning, heat-treating, and post-coating polishing. The coating segment is performed in a molten bath [typically consisting of a solute (Borax), a metal source, and a reducing agent]: carbide-forming compounds in the bath react with carbon in the substrate and produce metal carbides on the substrate surface. TD coatings exhibit a diffusion type bond, thereby providing superb adhesion between the metal carbide layer and the substrate. This bonding characteristic, combined with the coating's high micro-hardness, provides excellent resistance to the types of wear and galling often seen in many metal-forming processes.
General Characteristics of TD Coatings
Processed in an elemental salt bath
Reactions take place on the surface of the parts, with the coating exhibiting a diffusion style bond to the substrate
Metal carbide films exhibit a high micro-hardness (3400-3800 HV), typically in excess of 80 HRc, depending on film composition
Coatings will typically exhibit a low coefficient of friction (0.15 – 0.3) depending on film composition
TD is an additive process, with an average film thickness of .006 – .009 mm., or .00024 – .00035 inches
High processing temperature (~ 1875° F)
TD is better able to coat internal surfaces than a PVD process.
Pre- and post-coating polishing can achieve good final finishes
Post-coating heat treating is required on steel tools
Special TD Processing Notes
Air hardened tool steels and High Speed Steels are recommended for the TD process
Steels must have ≥.3% carbon content in order to form a coating layer
Oil-hardened tool steels are not recommended for this process
When coating carbide (WC) tools, we recommend carbide grades with ≥10% Co binder (carbides with Ni, Ti or other binders are not suitable for this process)
TDkote™ TD Coatings
| Proprietary Name | Composition | Color | Thickness (microns) | Micro-Hardness (HV) | Coefficient of Friction | Maximum Working Temperature | Coating Process Temperature |
| --- | --- | --- | --- | --- | --- | --- | --- |
| TDkote™ | VC | Silver | 4-12 | 3400-3800 | 0.3 | 700˚C/1292˚F | 1024˚C/1875˚F |
| TDkote™+S | VC/(Mo, W)S2 | Gray | 4-12 | 3400-3800 | 0.15 | 700˚C/1292˚F | 1024˚C/1875˚F |
Data generated from lab samples. Characteristics may vary depending on customer's material, surface condition and part geometry.
Typical Applications for TD Coatings
Extrusion Punches & Dies
Perforating Punch
Burring Punch
Shaving Punches
Embossing Rolls
Coining Punches & Dies
Draw Punches & Dies
Knurling Tools
Bending Dies
Forming Dies
Hot Forging Dies
Powder Compaction Dies
Wire Draw Plugs
Tube Mandrels
Die-Casting Molds & Cores