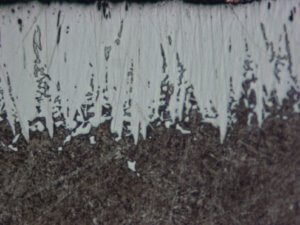 Boronizing (also known as boriding) is a high temperature thermo-chemical surface hardening process in which boron atoms are diffused into the surface of a work piece to form complex borides (i.e. – FeB/FeB2) with the base metal.  There is no mechanical interface between the complex borides and the substrate as this is a true diffusion process.  The resulting case layer has a hard, lubricious surface capable of performing at higher temperatures than most surface treatments.  Practically any ferrous material can be boronized, as well as many Ni, Ti & Co alloys.  However, it is important to note that the higher the content of alloy elements, the slower the diffusion rate.
General Characteristics of Boronizing
High temperature process (850˚ C/1562˚ F typical for ferrous materials)
High hardness (1600-1900 HV in ferrous materials) of case layer
Reduced coefficient of friction (0.4)
High resistance to temperature (approx. 1200° F)
Increases resistance to acids (especially Hydrochloric acid)
Boronized layer can be polished after processing
Reduced tendency to cold weld
Suitable for a broad range of materials
Boronized layer can be selectively applied
Surface treatment can be uniformly applied to irregular shapes
Heat treatable materials can be fully hardened after boronizing
Uniform case depths of diffusion layers are controllable
Titankote™ B – Boronizing Technical Data
| Proprietary Name | Type | Composition | Color | Case Depth (microns) | Micro-Hardness (HV) | Coefficient of Friction | Maximum Working Temperature | Coating Process Temperature |
| --- | --- | --- | --- | --- | --- | --- | --- | --- |
| Titankote™ B | Diffusion | Complex Borides* | Gray | 10-200** | 1600-1900*** | 0.4 | 650˚C/1202F˚ | 850˚C/1562F˚ **** |
Data generated from lab samples. Characteristics may vary depending on customer's material, surface condition and part geometry.
* – The composition of the diffused layer will vary depending on the base material.  For example, ferrous materials will form FeB/FeB2; nickel-based alloys will form Ni4B3/Ni2B/Ni3B; cobalt-based alloys form CoB/Co2B/Co3B; titanium-based alloys form TiB/TiB2.
** – The thickness/depth of the borided layer will vary depending on the base material.  Ferrous materials will develop thicker layers; materials with a higher content of alloy elements tend to produce thinner layers.
*** – The micro-hardness of the diffused layer will vary depending on the base material.  For example, FeB/FeB2 layers will have a micro-hardness in the range of 1600-1900 HV.  Other elements, such as Ni, Ti and Co, will produce a different hardness range, some even higher than FeB/FeB2.
**** – The processing temperature will vary depending upon the base material.  The temperature shown in the table is a common processing temperature for ferrous materials.
Typical Applications for Boronizing
Tooling
Hot forging dies
Wire drawing dies
Extrusion dies
Straightening Rolls
Ingot molds
Oil & Gas Components
Production tubing
Valve components
Valve fittings
Metal seals
Coal/Oil burner nozzles
General Components
Nozzles
Plungers
Gears
Shafts
Rollers
Miscellaneous
Turbine components
Pump impellers
Ball valves & seats
Shaft protection sleeve
Guide bars
Suitable Materials for the Boronizing Process
This list is representational, but not all-inclusive:  please contact us with questions regarding your specific application substrate.
Ferrous Metals
Carbon steels
Low alloy steels
Tool steels (H13, D2, etc.)
Stainless steels
Gray & ductile cast iron
Non-Ferrous Metals*
Tantalum
Titanium
Tungsten
Niobium
Molybdenum
Ti & Ni Based Alloys*
Ti-6Al-4V
Inconel 718
Inconel 625
Hastelloy
Nimonic 80A
*- these materials typically require special processing, and are not available as a standard process.